Ethiopia
Rich in history and culture, Ethiopia remains a unique destination within Africa and the world. Historical ruins, stunning landscapes, bountiful birdlife and 82 distinct ethnic cultures provide endless options for the visitor.
The northern historical route offers amazing insight into the rich history of Ethiopia, with ruins dating back as far as the 8th century BC. Bahir Dar, Gondar, Axum and Lalibela are the most important places of note in immersing yourself in the tradition that is uniquely Ethiopian. The Simien Mountains, with its jagged mountain peaks, provide a refreshing opportunity for trekking and wildlife viewing. In stark contrast to the highland of Ethiopia, the Danakil Depression, with several points more than 100m below sea level, is the lowest point on the African continent - a spot for only the truly adventurous!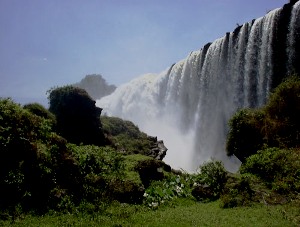 The southern regions of Ethiopia are for people and nature lovers. The Omo Valley is home to many different ethnic groups, many who have barely altered their living patterns, relying on the natural resources around them for survival. The area is also dotted with lakes running through the Great Rift Valley, which extends all the way south to Mozambique. The Bale Mountains hosts many animal species, several of which are endemic and have only graced the soils of Ethiopia.
Far apart from the rest of Ethiopia lies the unique walled-city of Harar, where the famed "hyena men" feed the local hyenas on the city perimeter on a nightly basis. College of Biological and physical Sciences. School of Biological Sciences. School of Physical Sciences. Department of Meteorology. Department of Physics. Department of Chemistry. Department of Geology. Institute for Climate change and Adaptation. Centre for Biotechnology and Bioinformatics. School of Computing and informatics.