Uganda Safaris, Camping Tours, Uganda Lodge Safaris, Gorilla Tracking, Uganda National Parks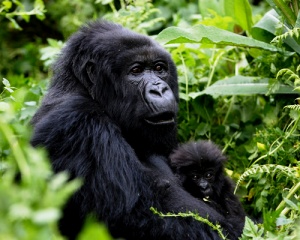 Uganda is considered "The Pearl of Africa".The famous tour sites in Uganda include Kamplala, Entebbe, Gorilla in Bwindi National park, Gorilla groups, Uganda gorilla mountains, Uganda Gorilla Tours, Uganda Gorilla safaris, Lake Bunyonyi, Uganda Famous Wildlife parks anda reserves, Uganda rainforests, Uganda Hotels and Camps and Uganda luxury tented camps.
Seeing some of the last remaining 700 mountain gorillas in the world is a fantastic experience and this safari takes you to three gorilla parks
Uganda is home to largest number of primates including mountain gorillas, one of the rare animal species in the World. It is the source of the mighty River Nile which offers the best white-water rafting in the world, its blessed with the most beautiful snowcapped mountain range in Africa (Rwenzori mountains), with wonderful waterfalls, birds and vegetation. And, most important, the people of Uganda are one of the friendliest among planet earth! College of Biological and physical Sciences. School of Biological Sciences. School of Physical Sciences. Department of Meteorology. Department of Physics. Department of Chemistry. Department of Geology. Institute for Climate change and Adaptation. Centre for Biotechnology and Bioinformatics. School of Computing and informatics.