Kenya Luxury Lodge Safaris and Tours in Kenya departing from Nairobi and Mombasa. Luxury Lodges of Kenya's Maasai Mara Safaris, Samburu Lodge Safaris, Amboseli Lodge Safaris, Lake Nakuru Lodge Safari, Lake Baringo Safari, Mt. Kenya Lodge Safari, Maasai Mara Lodge Safaris, Tsavo Lion Safaris, Kenya Elephants and Rhino Safaris.
Fig Tree Camp Maasai Mara.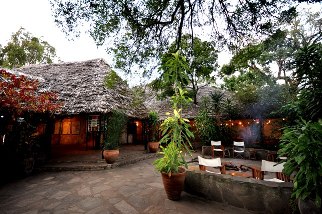 Fig Tree Camp is located on the banks of the Talek River in the world famous Maasai Mara game reserve. The Camp is situated on the northern border of the game reserve and its central location makes all areas of the park accessible during game drives. To make an evening a real adventure, at the Fig Tree Camp one can choose to stay in a tent or a chalet, giving the best of both worlds. The rooms spaciously line up along the Talek River,overlooking the plains of the game reserve.
Activities:
Your day is designed to be as exciting or relaxing as you wish. There is a variety of activities from which to choose - escorted bush walks, day and night game drives, sundowners, full days out with delicious picnic lunches into the very heart of the Mara, bush dinners down by the hippo pools, visiting the rhinos, and cultural visits to Maasai villages - all tailor made to ensure a rewarding safari of a lifetime. Balloon safaris, scenic flights over the Maasai Mara, and day trips at an extra cost.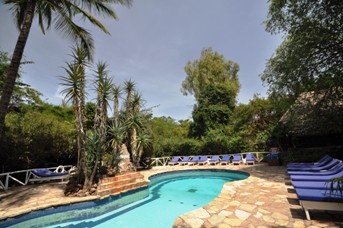 Accommodation:
Total rooms: 80 38 Safari Tents overlooking the Talek River, each with a double and single bed. 32 Garden Chalets with double and single beds. 10 Superior Ngamboli Tents on the banks of the Talek River. The Ngamboli tents are the super luxury tents located on a private wing of the Camp with open views over the Mara game reserve. All rooms are ensuite and have their private balcony
Facilities:
Two bars, A main dining room, An open-air dining area Tree house coffee deck. Also available is a video room, Guest lecture facilities, Swimming pool, Curio shop. A fleet of four-wheel drive vehicles with expert drivers is available at the camp.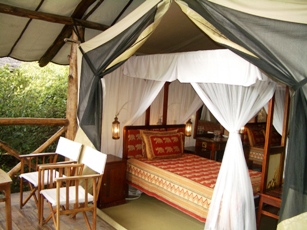 Game drives

The Camp has a fleet of 4 wheel vehicles with driver guides and is able to offer game drives for clients. The Camp also organizes "fly in" packages from Nairobi and Mombasa.
Balloon Safaris
Based at the Fig Tree Camp is Adventures Aloft with daily Balloon departures. There is little to beat the bird's eye view of the Maasai Mara. To top of this special occasion, a full Champagne breakfast complete with open bar is organized on the landing site to celebrate the flight.