Nairobi Hotels, Nairobi Reservation in Kenya Hotel Bookings and Reservation, Nairobi Hotel Accommodation
Nairobi Hotel Bookings, Affordable Nairobi Hotels, Cheap Hotels & best travel accommodation, The best deals on Nairobi Hotel Reservations and Hotel Booking.
Jacaranda Hotel, Nairobi.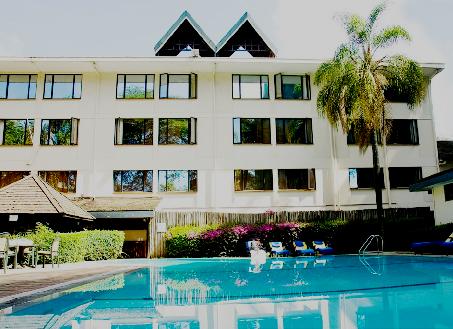 Its location with the Westlands suburb makes the charms and attractions of the city easily accessible.
A comfortable well equipped garden hotel, within five minutes drive from the capital city central business district, it avoids the noise and bustle of the city.
An ideal hotel for the visiting businessman, conferences and yet a Nairobi base for any safaris within the region.
Number of rooms
There is a choice of 121 quiet and tastefully furnished rooms each complete with a central ceiling fan and satellite TV, all requirements of businessmen, couples, groups, newly-weds and families.
In-Room Amenities
Business mans working area
Hair dryers
Satellite Television
Central Ceiling fan
Direct Dialing facilities
Electric Socket for the laptop
Private bathroom and toilet en suite
220/115v shaver sockets in bathrooms
Other Services
Laundry / Dry cleaning services
Gift Shop
Baby Sitters available on request
24 Hours room service
Business Centre
Check out time: 10.00 am
Check in Time: 12.00 pm
MEETING AND CONFERENCES
Business Centre
To compliment the conference facilities this centre is equipped with the latest in computer software, photocopy services, fax, e-mail, and lamination as well as a competent secretarial team. The centre is open till late at the guests' discretion.