Nairobi Hotels, Nairobi Reservation in Kenya Hotel Bookings and Reservation, Nairobi Hotel Accommodation
Nairobi Hotel Bookings, Affordable Nairobi Hotels, Cheap Hotels & best travel accommodation, The best deals on Nairobi Hotel Reservations and Hotel Booking.
New Stanley Hotel, Nairobi.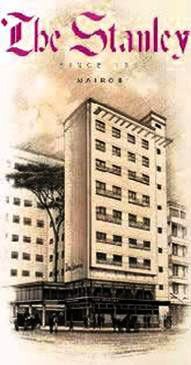 Located in downtown Nairobi, Kenya's cosmopolitan capital city.

Over 100 Years of Tradition and Service

Rated Five Star, The Stanley Hotel is one of Nairobi's most famous landmarks and a complete upgrade has revived its reputation as one of the best international-class hotels in the city centre.
You only have to step outside the door for shops and restaurants and the internationally known rendezvous point and pavement café, the Thorn Tree Café is within the hotel grounds.
ACTIVITIES
City Hotel Shopping Conference Facilities Health/Spa Sport Facility Day Excursions.
Description:
New Stanley, a five-star hotel built around the history of Nairobi, The Stanley is also famous for its Thorn Tree cafe, a world meeting place. The Thorn tree, in the days before modern communication, was used as a bulletin board for notices and messages from the settlers that lived in the more remote areas of Kenya. The cafe was also a favourite observation post of Ernest Hemingway. Since 1906 New Stanley Hotel has stood as the social cornerstone of Nairobi. Centrally positioned, its relaxing atmosphere provides luxury and comfort just meters away from the bustle of the city.
HOTEL AT GLANCE:
Today, the visitor will find modern air-conditioned accommodations, including television, video and mini-bars in all of the spacious rooms, a rooftop swimming pool, cafe and a health club. International banquet, conference facilities and a hotel airport bus are also available. The luxurious guest rooms and suites are exceptionally spacious, comfortable and give a feeling of being home while away from home.
Deluxe twin
All rooms are equipped with the amenities for the modern business traveler, such as direct e-mail access.
Non-smoking rooms are available as well as 24-hour room service and same day laundry and valet service. A gourmet restaurant, The Tate Room, The Ball Room, Safari Bar, Poolside Restaurant and Bar, Health Club, Florist, Chemist, Beauty Saloon, Travel Agent and modern conference facilities to play host to 300 delegates, all add up to make New Stanley the ideal base for the holiday and business travelers.
The Thorn Tree
An open-air pavement brasserie/bistro-style café with & an excellent patisserie range. The Historic cafe gaurds The Stanley's entrance and has the world's famous Messenger- an acacia xanthophidea, whose message-board has formed the centrepiece of the legendary Thorn Tree Café since 1902.
Although the café is now on its third acacia, the messages keep flowing from the café and the atmosphere of Africa's best known meeting place is still as warm and welcoming as it was in those early days.