Grootbos Private Nature Reserve - South Africa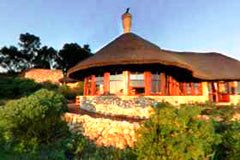 Less than two hours drive from Cape Town, Grootbos Private Nature Reserve is set in 2,500 acres of indigenous bush, with sweeping views of Walker Bay. During whale season (July to November), the cliffs of Walker Bay offer the 'Best land-based whale watching in the world.' Huge Southern Right Whales come here to calve and mate and loll around in the breakers just a few meters off shore. Boat trips also reveal huge sea bird colonies and Cape fur seals.
The large private cottages and secluded balconies in the Grootbos Nature Reserve allow you to watch the sun setting over the ocean. The cottages are set amongst ancient milkwood trees and you are awaken to the calls of forest birds:- It is actually the Eco-Lodge of your Choice.
Grootbos has won several awards for its ecologically sound tourism and encourages conservation of its precious fauna and beautiful Flora - the world's sixth floral kingdom.
Space, light and the time to enjoy them. Set among the ancient milkwood trees, the large, private suites give the guest a chance to unwind, surrounded by the splendours of nature and pampered by all the comforts of home.

Grootbos Private Nature Reserve
Each suite has its own secluded balcony from which you can admire the sunsets over the ocean or start the day in tune with the forest birds. Natural textures and colours bring the harmony of nature into your suite. Spacious, finely appointed bathrooms complete the feeling of utter luxury.
Strolling between your suite and the main lodge, winding pathways will guide you past the largest milkwood forests in the world.