The Sun City Resort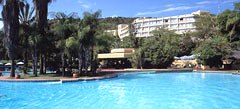 WINING AND DINING AT THE SUN CITY HOTEL
A multitude of entertainment options characterize The Sun City Hotel in the heart of the Sun City complex. The Sun City Hotel in South Africa is for those who want to be where the action is - day and night this hotel never stops pumping!
You'll find tempting treats from the Orient at the Orchard restaurant; South Africa 's traditional specialities are served at the Calabash; an interesting selection of light meals and pastries at the Lobby Lounge; peacocks strut past the lavish buffet at the Sun Terrace; and a sophisticated international hotel menu can be enjoyed at Harlequins Restaurant and Bar.
THE CHALLENGING LOST CITY GOLF COURSE AT SUN CITY
The Lost City Golf Course is an 18-hole desert-style golf course with spectacular views across the bushveld. Unique to this 72 par course are the 38 real crocodiles at the 13th hole making this one of the most unusual golf resorts in the world, let alone in Africa! The golf course covers more than 100 hectares and incorporates 28 000 square meters of water features not surprisingly golf carts are compulsory.
FACILITIES AT SUN CITY: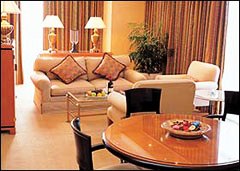 Food & Drink - a host of restaurants to choose from offering everything from oriental cuisine to italian, seafood, sushi and grills. Also a variety of casual snack bars, coffee shops and take-aways in the entertainment centre. A selection of bars are also available from poolside cocktails to glitzy casino venues.
Shopping - leather goods, jewellery, shoes, clothing, wine and the Sun City range of souvenirs are all available.
Chidren- children aged 2-12 are catered for with the Kamp Kwena kiddies programme. Children will also love the choo-choo steam train, animal world, bumper cars and childrens arcade.
Exotic Wildlife and Culture- the Sun City resort is set amongst tropical landscaped gardens and water features and there is plenty to see and experience including the Cascades Aviary with over 300 birds, the Birds of Prey Centre, the Crocodile Sanctuary and the Botanical Gardens. Also not to be missed is the Cultural Village depicting the lifestyles and crafts of 8 African tribes.
Windchimes Chapel - Sun City is the perfect wedding and honeymoon destination. Couples are married in the beautiful wind chimes chapel overlooking the Palace and surrounding bushveld.

Courtesy of Sun City Resorts.