Uganda National Parks
Uganda often known as "the Switzerland of Africa", due to its sheer physical beauty, is a land of infinite variety. Now, politicaly stable, it invites you to experience the many wonders of its natural heritage Encompassed within its 235,880 sq km are national parks, abounding in wildlife and magnificent lake and mountain scenery. Kampala, its capital city is well connected by road, air, and train, and is 35km from the international airport at Entebbe.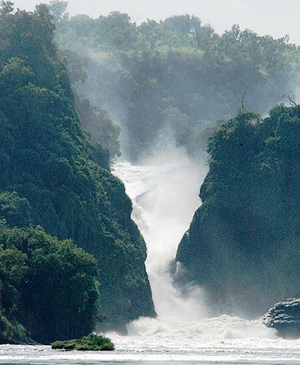 National Parks and Game Reserves.
As the pearl of Africa Uganda's beauty is only surpassed by its mot famous attraction- Bwindi, home of the elusive and treasured gorilla. Half of the population of the worlds gorillas live in the Virunga Mountains where the Zaire, Rwanda and Bururndi borders meet.The other half are foundin the forests of Bwindi, formerly known as the Impenetrable Forest. Amongst Ugandas many attractions are the magnificent Murchison falls and Lake Victoria- the second largest fresh water lake in the world.
Murchison Falls National Park.
The waters of the nile storm turbulently througha narrow ctrevice 7m in diameter, to crash into a series of foaming, roaring cascades on rock 45m below. It is the largest park in Ugandaand all the wildlife can be viewed from a vehicle, or the comfort of a motor launch on the river, adding to its unique features
>> Read More
Queen Elizabeth National Park.
In the southern part of the park is the Ishaha area with tree climbing lions and the Maramgambo, one of the largest natural forests in Africa. The northern part is dominated by breath taking crater lakes. A launch trip along the Klazinga Channel joinig Lake Edward and Lake George is an added attraction.
>> Read More
Bwindi National Park
Uganda's impenetrable forest is home of the shy mountain gorrila. Incredibly dense, this forest is a spectacular sight and provides the opportunityfor gorilla tracking with experienced guides. From only a few feet away, watching this shy animal in its natural enviroment is truly a rare and moving experience.
>> Read More