Maasai Mara balloon Safari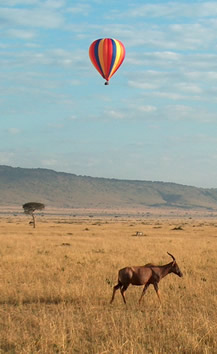 Close your eyes, and for a moment feel your body lift up, with you having no control over it, and there is a certain part of you, inside you, saying to yourself,
I am crazy for taking this balloon safari
. This is what most people feel, when the excitement of a Masai Mara hot air balloon safari crosses one's emotion of self-control and independence.
The feeling is indescribable, crispness of the African air, chill in the wind that hits your face as your Mara hot air balloon gradually raises, smoothness in the exhale of your breath, and the excitement to see and learn more. One's physical presence can be felt on the plains of the Masai Mara when reading this.
Your trip begins when you get your wake up call at your safari lodge or tented camp in the early hours of the morning, as you yawn away, and thoughts about your wildlife viewing from an elevated position begins to stir your mind. The fresh Kenyan traditional hot tea and coffee quickly awaken you, in fact preparing you for a "mission".
By 6.00 a.m. you are almost arriving at the hot air balloon site in the Masai Mara. As you approach the site, the balloon seems bigger than you expected, the experience is one that has never been visited, and you are about to have a trip of a lifetime.
Liftoff! Up and away we go! At 6.15 a.m., the hot air balloon safari starts. The captain asks you to relax and experience the wonders under the African sky. As you finally start to get a grip on the elevation, an inner smile that resonates on one's face does not need an explanation. The wildebeest moving in large numbers across the Masai Mara plains, the beauty of the landscape when the rising sun's bright orange colors are displayed, the elephants at the water pool, and the gazelles and zebras scampering away, just if it was their first time to witness an alien object in the sky.
By 7.15 a.m., one is very content with balloon safari, and it is almost touch down time. There is a celebration, and for those who prefer a toast, champagne is served, as hot breakfast in the bush is being prepared. You ask yourself, is this true? I am really doing this trip of a lifetime in Kenya? In the Masai Mara? As the sweetness and aroma of the African coffee surrounds you, with fresh eggs being served as you like it, you hope for another ride, and wish that such luxury never ended. By the time you finish your breakfast, you have made up your decision to immigrate to Kenya because such life is only found here. You begin to question yourself, and you feel an urgency to seek, live and enjoy this pristine beauty, a once in a lifetime "thing".
By 9.00 a.m., you have been declared a champion, a mighty certificate of completion handed out to you which you hope to display in your home country, to family, friends or coworkers. Clapping and participation by everyone present makes you proud to have achieved a trip as wonderful as this. By then you hear a blaring sound of music or even an annoying buzz, you turn around and switch of the alarm clock. Your eyes wide open, you know that you have to get back to Kenya, to Masai Mara, again otherwise the recurring dreams will drive you mad.