Kenya Road Safaris, Kenya Landcuiser safaris, Safari Vans, Safari vehicles on Kenya Roads
DTS 017 - Tree Hotel - Samburu - L. Nakuru - L. Naivasha (5 Days)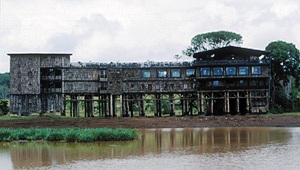 Day 1
Drive northwards through the farmlands of the Kikuyu people to reach Mount Kenya and the small town of Nyeri in time for lunch.. In the early afternoon drive through the forest to your tree hotel where the night is spent high above the floodlit waterhole and saltlick. Frequent visitors are elephants, rhino, buffalo and giant forest hog. Overnight at your hotel.
Day 2
After breakfast flank Mount Kenya and descend into the dry and rugged semi-desert where the Samburu National Reserve is situated. Harsh but beautiful this reserve harbours many species of animals not found in the more lush parks to the south. Afternoon game drive with dinner and overnight at the Lodge in the reserve.
Day 3
The day is spent exploring this reserve. You will almost certainly see the graceful reticulated giraffe,. grevy's zebra, elephant and the oryx perhaps the origin of the legend of the unicorn. Overnight at your Lodge.
Day 4
After breakfast drive to lake Nakuru stopping enroute for a brief look at the magnificient Thompson's Fall.. Visiting the world famous bird sanctuary in Lake Nakuru National Park noted for its huge concentration of flamingoes. Lunch and overnight at a Lodge in the Park or proceed to Lake Naivasha where the night is spent at Lakeside hotel.
Day 5
After breakfast leave this beautiful lake Naivasha richly endowed with birds to reach Nairobi by lunchtime..