Mombasa city excursions are feted for short breaks between safari while in Kenya Coast in Mombasa, Lamu and Malindi. The Indian Ocean beach in kenya is prestine for honeymoon, weddings, family vacations
DTS 048 Mombasa Tour
This half day tour shows you the site of Kenya's oldest and second largest town. Stops include Fort Jesus (designed in the 16th century by the Italian architect Cairati) and the traditional wood covers.
DTS 049 - Bombolulu
Traditional dance, music and theatre combine to offer a Kenyan cultural experience. An opportunity to purchase a local hand made product is available at the end of the visit.
DTS 050 - Kisite - Mpunguti Marine National Park
A full day gives you time to snorkel or scuba dive among the superb coral gardens or spend time bird watching.
DTS 051 - Tamarind Dhow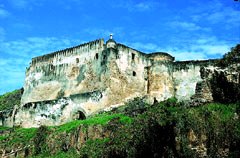 Board a romantic dhow and enjoy an evening cruise on the creek, complete with cocktails, seafood dinner (or steak as alternative) and a bongo band for entertainment.
DTS 052 - Ngomongo Clutural Experience

Experience "pure magic". all of Kenya is one spot. "Ngomongo is a collection of 10 diverse rural Kenyan tribal homesteads, each complete with huts, cultivated crops, and domestic and wild animals."
DTS 053 - Tsavo National Park
A full day game drive in the largest park in kenya including lunch at a safari lodge.